An Introduction to the AMR Knowledge Hub:
Global Health Research Priorities for Responding to the AMR Silent Pandemic
Tuesday 13 June 2021 | Webinar recording available below | Read the webinar report

The Global Health Network platform operates like an open, trusted online science park for health research and is used by thousands of researchers world-wide, especially in limited resource settings, with the focus on Global Health. Within this platform we have developed the AMR Knowledge Hub to support stronger coordination, knowledge sharing and faster progress in AMR research and practice across the Globe. It provides an open resource for a global community of practice for all researchers, healthcare and laboratory teams in all organisations working in AMR globally. The AMR Knowledge Hub is dynamic as we continuously review the global AMR knowledge and research landscape to identify gaps and needs on access to resources, guidelines and policy recommendations.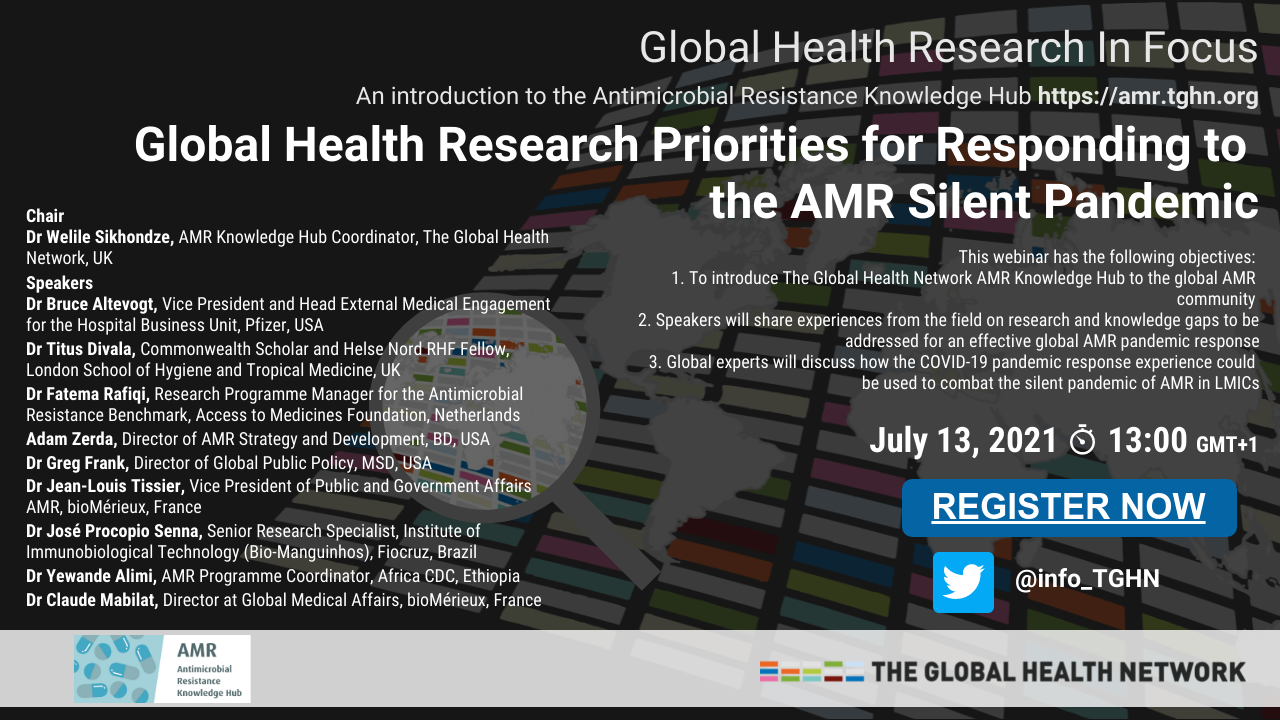 This TGHN Research in Focus webinar had the following objectives:
1. To introduce The Global Health Network AMR Knowledge Hub to the global AMR community
2. Speakers shared experiences from the field on research and knowledge gaps to be addressed for an effective global AMR pandemic response
3. Global experts discussed how the COVID-19 pandemic response experience could be used to combat the silent pandemic of AMR in LMICs
Chair: Dr Welile Sikhondze, AMR Knowledge Hub Coordinator, The Global Health Network

Speakers:
Dr Bruce Altevogt, Vice President and Head External Medical Engagement for the Hospital Business Unit, Pfizer, USA
Dr Titus Divala, Commonwealth Scholar and Helse Nord RHF Fellow, London School of Hygiene and Tropical Medicine, UK
Dr Fatema Rafiqi, Research Programme Manager for the Antimicrobial Resistance Benchmark, Access to Medicines Foundation, Netherlands
Adam Zerda, Director of AMR Strategy and Development, BD, USA
Dr Greg Frank, Director of Global Public Policy, MSD, USA
Dr Jean-Louis Tissier, Vice President of Public and Government Affairs AMR, bioMérieux, France
Dr José Procopio Senna, Senior Research Specialist, Institute of Immunobiological Technology (Bio-Manguinhos), Fiocruz, Brazil
Dr Yewande Alimi, AMR Programme Coordinator, Africa CDC, Ethiopia
Dr Claude Mabilat, Director at Global Medical Affairs, bioMérieux, France
Prof Trudie Lang, Director, The Global Health Network, UK
This webinar is part of The Global Health Network's Research in Focus series, a public lecture series featuring prominent speakers in global health research. It spans research disciplines, regions, and therapeutic areas, and celebrates advances and achievements towards more, faster and better research for health. View more webinars from the series.